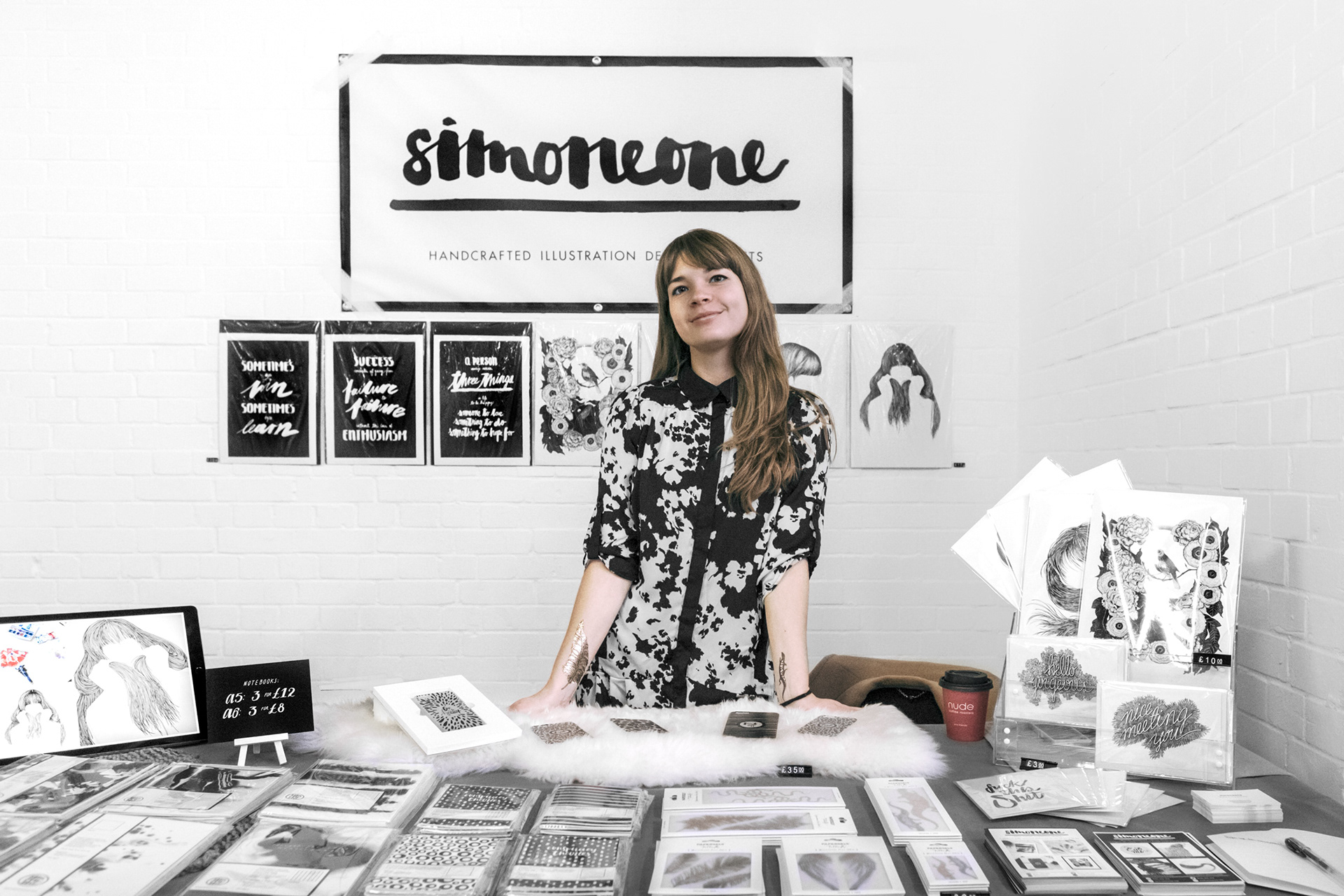 Simona Bunardzhieva is a fine artist, who currently lives and works in San Francisco, CA.
With a background in illustration, graphic design, graffiti and (why not) horse riding, she is looking at her fine art as the ultimate creative expression, outlet to let go of control and a meaningful way to impact others.
She works from her art studio at 1890 Bryant St., walks her dog at the Dogpatch (serendipitously) and dreams of leaving a lasting impression.
I work in monochromatic colors as a way to reduce and decrease. I believe our world is so saturated with information that I seek peace and quietness through my work. I also am somebody who needs to be in control of their life. To cope with that I'm approaching my paintings as an outlet to let go, and allow accidents to take over me.
My one rule is that I'm not allowed to plan how a painting is going to turn out. I start, add and remove, until eventually the work becomes done. My pieces take relatively quick to be made, however it takes me to create many of them, to have a few that have turned out good.
My current body of work consists of primarily monochromatic paintings in ink and acrylics, exploring patterns, textures and spontaneity. 
Selected Exhibitions & Talks
2018 - San Francisco Open Studios
2018 - Artspan Beneficial Art Auction
2018 - "Send Me Across the Sea" group exhibition at Book & Job Gallery
2017 - Group exhibition at The Marker Hotel
2017 - Guest speaker and mentor for young artists at Nepris
2017 - multiple times guest speaker at Adobe Generation Pro online course
2017 - Speaking and hosting workshops over a few days for Adobe at Bett Show, London
2016 - multiple times guest speaker at Adobe Generation Pro online course
2016 - collaborative installation with Field, Tate Modern, London, UK
2015 - Christmas Art Fair, Chalton gallery, London, UK
2015 - "Merge" student event, group exhibition, 90 Main Yard, London, UK
2014 - "Advents Salon" group exhibition, Dog & Pony Gallery, Munich, Germany
2014 - "Closing London Fashion Week Talents Showcase" group exhibition, Cuckoo Club, London
2013 - "Vanity" solo exhibition at Belchica, Barcelona, Spain
2013 - "Encyclopedia Organnica" solo exhibition at Belchica, Barcelona, Spain
2012 - group exhibition at the National Art Gallery, Stara Zagora, Bulgaria
2001 - solo exhibition at the National Puppet Theatre, Stara Zagora, Bulgaria

Selected Press & Publications
2018 - Interview for Chapter 89
2018 - Packaging of the World featured Kiki's Cocoa
2017 - Interview with Secrets of Green
2017 - Paredro.com wrote about a project I collaborated on: "Merge Yourself with Your Work"
2017 - My Offensive phone case was featured in a NOWNESS film about sustainable fashion
2017 - Friday Feature interview by London Local Team
2017 - type.gang featured my "8" design
2017 - 36daysoftype featured my "6" design 
2017 - Illustration Advice with simoneone, by Jamie Whiffen
2015 - Blueprint Graduates to Watch, online & in magazine
2014 - makamo.es, art & design portal
2014 - 'Literaturen Vestnik', Bulgarian political newspaper
2014 - Banitza.net, online political magazine
2013 - La Calculadora Rusa, online news portal
2013 - Metropolitan Barcelona, city guide
2009 - 'Capital Light', Bulgarian newspaper
2009, 2008, 2006 - 'Puteki', high school magazine